April 1, 2016
April 11-15 is Work Zone Awareness Week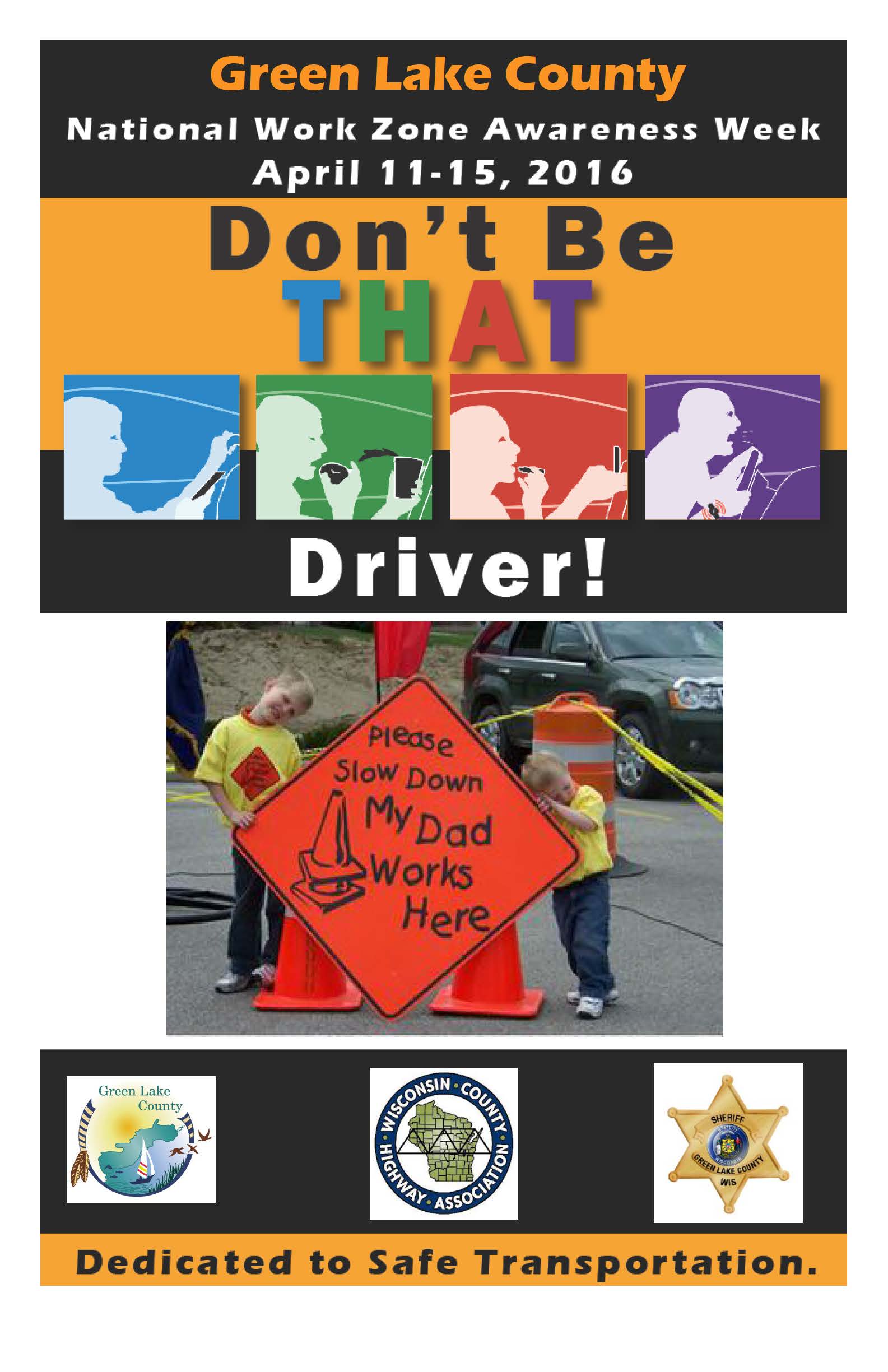 Green Lake County Officials Remind Drivers to Drive Safely in Work Zones this Construction Season
Green Lake County Highway Commissioner Amy Brooks urges people to drive carefully in highway work zones as the start of maintenance and construction season begins throughout Green Lake County and the State of Wisconsin. As the weather turns, work zones will be more prevalent putting more highway workers and drivers at risk. In 2013, the most recent year in which data is available, the Wisconsin Department of Transportation reported that there were nearly 1,600 work zone crashes in Wisconsin alone, resulting in 629 injuries and nine fatalities. In 2015, the construction season was marred by three tragedies in which Wisconsin County Highway workers were killed within work zones.
National Work Zone Awareness Week, sponsored by federal, state and local transportation officials each April, draws attention to the safety needs of road workers during construction season. Generally, crashes occur when drivers speed through a work zone, do not pay attention to changing road conditions, run into other vehicles or highway equipment, or drive off the road completely. Due to the importance of this week, Green Lake County has passed a resolution proclaiming April 11th through 15th as Work Zone Awareness Week.
"Many sections of our state and county roads will be busy with workers and drivers in the coming months as construction and maintenance activities begin," said Green Lake County Highway Commissioner. "By following the rules of the road in work zones, we can keep people safe during National Work Zone Awareness Week and all year long. Please remember that our road workers are performing their duties in order to provide for a safe and efficient transportation system. They are community members, spouses, parents, and friends within our County and deserve to go home safe every night."
While typical construction work zones are prevalent throughout the county and state, there are also a significant number of maintenance operations that may be short-term or moving operations. Drivers are reminded of the state's "Move Over, Slow Down" law which requires drivers to shift lanes or slowdown in order to provide a "safety zone" for a squad car, ambulance, fire truck, tow truck, utility vehicle, or highway maintenance vehicle that is stopped on the side of a road with its warning lights flashing.
Sheriff Mark Podoll commented, "You bet we'll be out there, our office has worked with highway maintenance crews in the past and the deputies are prepared to issue citations for work zone violations – of which, the fine doubles".
Green Lake County Highway Department has another busy year of maintenance and construction projects planned. Additional information on specific projects can be found on their website at www.greenlakecountywi.gov under Departments – Highway. Any questions may be directed to the Green Lake County Highway Department. The Green Lake County Highway Department workers and families thank you in advance for slowing down and driving attentively through our work zones.